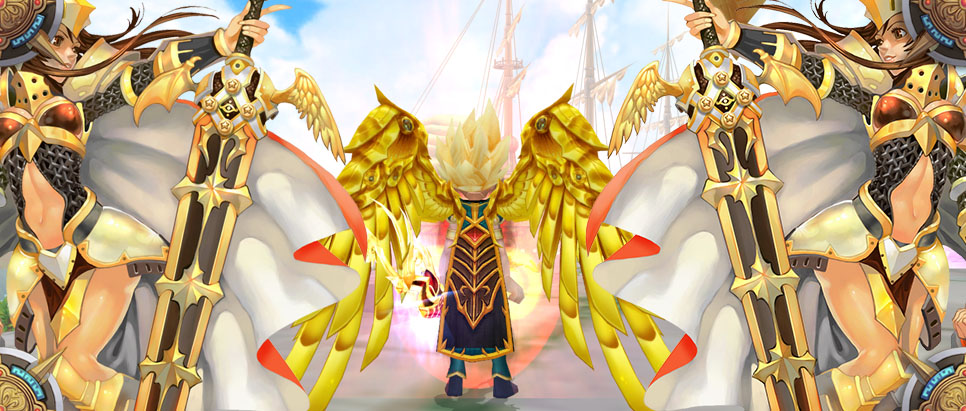 You will receive the dragon cloak at the beginning. You can improve the cloak as you play.
There are 10 stages of the cloaks. From level to level the cloak gets stronger and finally becomes the strongest cloak on the server.
You can always improve the cloak at jeff in flaris.
 https://www.dragon-crusade.one/index.php/forum/guides/33-work-in-progress-dragon-cloak-guide
Cloak description: Level range + Startquest NPC
Item description: Drop-off point Jeff for Cloak
Guide - Cloak Upgrade:
Start Items: Cloak LVL 0
Level 0
"Gift"
Level 1 Level 1-20
Quest 1: 15 Small Doridoma + 12 Doridoma Creatine / 15 Captain Mushpang + 12 Mushpang Secretion
Quest 2: Find Yorrn + kill Giant Lawolf
Quest 3: Find MaYun + kill Qiant Mr Pumpkin
Exchange: 20 Dragon Chips + old Cloak
// EXP Reward: 5 levels from player Lv. 1 (250 EXP)
Level 2 Level 25
Quest 4: Find Lesson 1-3 + kill Giant Red Mantis lv. 25
Quest 5: Talk to Helgar + Giant Gigglebox lv. 26
Quest 6: Talk to Tucani + kill Giant Rockmuscle lv. 25
Quest 7: Talk to Ancimys + kill Giant Dumbbull lv. 25
Quest 8: Item of Red Bang + kill Giant Cardpuppet lv. 25
Exchange: 40 Dragon Chips + old Cloak
// EXP reward: (1258137 EXP)
Level 3 Level 45
Quest 9: Item of Redbang + 25 Redbang + 10 Leader Redbang
Quest 10: Item of Leader Redbang + 10 Leader Redbang + 25 Redbang
Quest 11: Item of Leader Redbang + 20 Leader Redbang
Quest 12: Quest item available from both + 50 Redbang + 25 Leader Redbang
Quest 13: Lordbang + Item
Exchange: 100 Dragon Chips + old Cloak
// EXP reward: (2120354 EXP)
Level 4 65
Quest 14: Search + Giant Steelknight
Quest 15: Search + Giant Volt
Quest 16: kill 50 Red bang leader
Quest 17: Search + 30 Captain Crane Machinery + Giant Crane Machinery
Exchange: 150 Dragon Chips + old Cloak
// EXP reward: (18817757 EXP)
Level 5 80-110
Quest 18: Rangda + Questitem from her
Quest 19: 200 Meteonyker + 100 CyclopsX (maybe still gig giant glaphan)
Quest 20: 300 Meteonyker + 150 CyclopsX + 200 Dragon Heart + 100 Strange eyes
Exchange: 400 Dragon Chips + old Cloak
// EXP reward: (7710412189 EXP)
Level 6
Exchange: 2500 Dragon Chips + old Cloak
Stage 7
Exchange: 5000 Dragon Chips + old Cloak

over Iv. 150
Level 8
Exchange: 10000 Dragon Chips + old Cloak
Level 9
Exchange: 20000 Dragon Chips + old Cloak
Level 10
Exchange: 50000 Dragon Chips + old Cloak